Hotel Introduction
he very beginning from the harbor city, a 11 km Cijin Peninsula is telling a 350 years story. Let us find out the most beautiful story in Taiwan. We want to introduce South of Taiwan to the world, we build up our dream near the seashore, and we believe the high quality services and unique live style can extend to the everywhere in Taiwan. The beautiful story will be told in early spring 2013. Just let the sea breeze show you all.
Tel:07-572-1818
Hotel Address:80543 3F No.1050 Cijin 3rd., Cijin Dis., Kaohsiung City. Taiwan
Room Introduction
In Young Hotel has 70 rooms; come here to enjoy the vivid color of the sun light, we offer diversity room types fit all kinds of need. Our guest rooms designs for all travelers with friendly aerosphere. Each room has flat-screen TV, refrigerator, Coffee pot, high-speed Internet access, Wi-Fi and hairdryer.
Leisure Facilities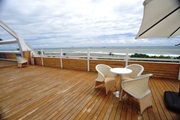 To ensure the quality and presentation of our food and service, we offer free hot breakfast buffer to all our guests. We also offer free mini bar, Business Center, Reading area, Sightseeing information, transportations arrangement and Laundry and Dry Cleaning etc.Information CenterMeet all travelers' needs, regrading tour arrangement, local food and must see spots suggestions for all tourists.Business CenterPublic area provides free Wifi service, travelers can easily grab all information during the journey.Reading AreaSand PitOpening Hour: 0730-2200A sand pit is great place for children to have fun. Walking TrailOpening Hour: 0730-2200Endless ocean view and lights on fishing boats make your exercise more enjoyable. Foot SpaOpening Hour: 0730-2200With sea breeze and starry sky, wash away tiredness by warm water with our foot spa.
Restaurants
3F Ci BistroProvide creative seafood dishes and incorporate the essence of Chinese cuisine such Cantonese style, and Taiwanese flavor. With the daily arrival of fresh seafood, a twist of the traditional seafood dishes of Cijin. Provide fully nutrition breakfast for all guests every day, Carefully choose local ingredients, the freshest seafood not only taking care the health also full off vitality.Hot Breakfast BuffetMon.~Fri.:06:30 -10:00 Sat.~Sun.:06:30 -10:30 Young Bar is a roof bar located on 4th floor, under the stars with sea breeze. Offer cocktails, seasonal dishes, beers and music, also a best spot for outdoor wedding, theme party, a glance of beauty of Cijin, just sit back and enjoy your own holidays.Opening HourMon.~Thur.:15:00 -22:00 Fri.~Sun.:11:00 -23:30
Peripheral Scenes
In Young Hotel just right next to the shore, close to the downtown of Cijin, a place you can enjoy the sea breeze and to know the very beginning of Kaohsiung, all the inner beauty of the city.
Directions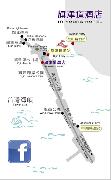 By CarTake National Highway No. 1 (Zhongshan Expressway) at the end of the Zhongshan Interchange, then take Yugang Road and go straight. Turn left at Xinsheng Road and go straight to the cross Harbour Tunnel. After crossing the tunnel, enter Cijin City and go along Cijin 1st , 2nd Rd. Our hotel will on your right side.